Film packing of massive wood products like wood profiles, blocks, balcony boards, stairs, groove- and tongue boards etc.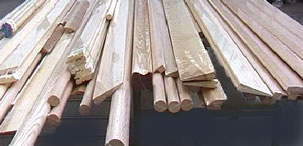 Long parts like blocks and profile are best packed on the Universa 500.
Long parts are best packed with a side sealing machine. Theoretically the products could be "everlasting long" for this type of film packaging machine. Milled wood blocks and profiles as well as similar products are more appreciated in the eyes of the customers, due to the film packaging.
Here a few product examples:


Profile- and flooring blocks
Carpet end strips, baseboards or the like get undamaged and protected into the racks of specialist shops and building centres. We recommend an article labelling directly after the film packaging. For better handling, the blocks get stored temporally on a case by a cross pusher unit as soon as the article leaves the tunnel.


Stacked groove- and tongue boards
This is another mission for the UNIVERSA 500 LTFS, a typical long part-machine for bigger production-run of one format. Also extremely long stacks are no problem for film packaging with the corresponding conveyor technology.


Rack parts, balcony boards and other massive wood parts
Even with longer keeping in building centres, the unpainted wood parts keep their beautiful appearance in the protecting film packaging. These packed wood products earn more acceptance and registered in favour.