Shrinkwrapping for fruits and vegetables in clear shrink film with Kallfass packaging machines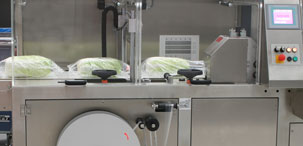 Apples, pears, lettuce, gherkins, carrots, berries, melons, ... - with or without tray - these products are sales-boosting wrapped in shrink film. In this way these fresh products are particularly well received on the retail market and among consumers. The benefits of shrinkwrapping are clear. It protects the fresh products on their way from the producer to the retail market and finally to the consumer. A further pro: the shrinkwrapping prevents unauthorized removal of single products out of the sales unit.
Here some real-life examples:

Crisphead lettuce shrinkwrapped on the UNIVERSA 500 SERVO
The continuous packaging process with this fully-automatic high-performance packaging machine guarantees a gentle handling of this extreme pressure-sensitive fresh product. The lettuce heads are shrinkwrapped in highly transparent film in continuous product stream without "STOP and GO".

Shrinkwrapped chinese cabbage on crates
Premium packaging for premium products
In this way premium vegetables and salads arrive safely at the end-consumer. The film packaging considerably supports the fresh appearance of high-quality products and strengthens the confidence in fresh products and their production process.

Crisp and fresh apples at the sales counter
May come from South Tirol or the Lake Constance area. This tray with apples is perfectly protected in shrink film and looks quite presentable even after long transport times. The consumer awareness is brought to the product by the aesthetic appeal.

Portion packs of greens on tray
The shrinkwrapping of filled trays is ideal for this kind of product. The film holds the products tight and safe and the transparency grants an optimum view of the content. The output could hardly be more functional.

Take a look inside...
Melons are always good for a surprise... at home. Cause that's were the customer finds out, if the fruit bought is ripe and sweet. When halved or quatered and shrinkwrapped, the deep red gives an idea of the sweet savour even before buying. Single households already prefer handy portions. And this becomes possible with Kallfass packaging machines.

Attractive appetizing look
The stable corn cobs are shrinked smoothly. The labelling can be attached on the film and not on the product.