Film packaging for laminate, parquet, cork parquet, planks and other floorings, as well as panels.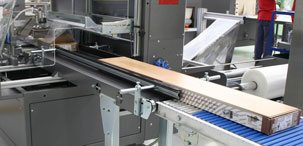 Kallfass film packaging machines – especially conceived for packing floorings
Especially for shrink film packing of laminate packages, cork parquets and massive wood parquets – trays, we developed an inverting head execution of the film packaging machine UNIVERSA 500, the UNIVERSA 500 LTFS. With the standard dimension of 1280 x 200 x 70 mm there can be packed between 15 and 20 packages in film, in cycling mode of operation.
Who needs more cycles should decide for the continuously packing shrink film-machine SERVO JET 500 LTFS. The floorings get wrapped continuously without STOP and GO and subsequently shrinked. That leads to a high speed packaging process which is gentle to the products.
Here some product examples:
Packing massive wood parquets with inverting head-machine without any film waste.
Inverting head-machines are ideal for big production-run in one dimension. Meant for parquet and laminate products which are produced full automatically. Another advantage: There are no film wastes with this packaging system.
Mixed assortment of floorings and other products?
With this production-portfolio there is need for flexibility in film packaging. We can offer the machines cycling or in continuous motion.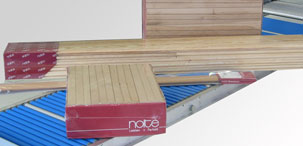 Cork parquet – chaotic packaging of several formats and dimensions in half shell cardbox-trays.
With this packaging solution, the packaging formats shown on the picture can be driven in chaotic changeover. A film packaging machine SUPER WRAP 650 de Luxe In-Line with a Kallfass HV tunnel (lateral sealing of the film overlap) makes it possible. A very competitive solution with good packaging results.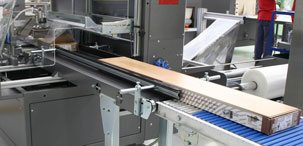 Stacked panels packed in printed film
Activate your branding in trading with printed film.