Film packaging for trading and distribution logistics
In many distribution centers, film packaging machines became indispensable for the dispatch packaging after commissioning.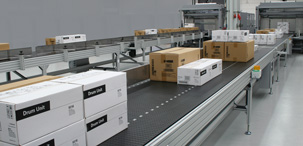 Automated Warehousing Systems for trading and distribution logistics supply today national and international markets.
The trend to large central distribution centers continues. Optimized processes operating around the clock in three-shift mode bring huge outputs. The film packaging machines take on the job of bundling products to stable shipping units. Regarding the packaging material, they are considerably less expensive than cardboard packaging. Film packaging lines can shrink even irregular prepackaging to optimized compact shipping units..
Bar codes, trekking codes and addresses are protected by the shrink film against moisture and dirt, but can be identified at any time by the human eye, scanners or other reading devices.