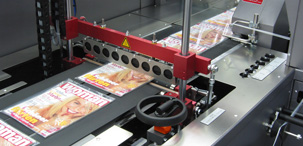 High uptime and great packaging results
High-speed machines in fully automatic production are daily agenda in the graphic arts industry. They need maximum uptime of the packaging line, so that at the end of the production line the productivity does not remain at a distance. And at the same time a high-quality film packaging is needed, in order to emphasize high-quality printed products.
During the development of our machines we put the highest value on these characteristics, therefore about 1/3 of Kallfass machines are used in the graphic arts industry.
Here a few product examples:
Shrinkwrapping for mailroom and distribution: Sleeve-wrapping newspaper in PE-film

The SUPER WRAP 500 was designed for filmwrapping newspaper stacks and similar printing products. The slim line is only 1100 mm wide, so that several packaging lines can be set up in parallel in one hall when space is short.
The TWIN SEAL TS 500 can be combined with the SUPER WRAP 500 in order to seal the excess side film. The smallest bundles or single copies get fully closed sealing seams and the extra strapping of small part bundles or single packs can be avoided.
Hardcover books, single or stacked

The UNIVERSA 500 SERVO is the ideal film packaging component for book lines. With high-quality single packs up to 120 cycles/minute, you also have a high speed reserve. With the continues motion it also wraps stacks without slipping at higher speeds.

The SUPER WRAP 650 DE LUXE IN LINE with an upstream collating station wraps paperbacks accurately, aligned in double stacks at Ebner & Spiegel (CPI Group).

With high performance requirements - as for instance school book production lines - a task for the "continues motion lines" of Kallfass. UNIVERSA 500 SERVO or SERVO JET 500 models. On the left typical products for the printing industry, perfect stacks wrapped in film with squaring station and UNIVERSA 500.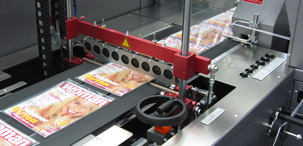 Here speed is in demand. For wrapping of up to 150 cycles/minute and more the high speed packaging machine SERVO JET 500 is the correct choice.
Magazines individually with inserts or product additions

With feeding systems, inserts, CDs etc. can be fed fully automatically onto the main product.

For shrink packaging calendars and similar printed products in all variations the UNIVERSA models are ideal. With the UNIVERSA 1000 also the largest formats can be wrapped fully automatically.
Fine Paper and Office Products

For manufacturing of high-quality fine papers, product-protective film packaging and flexibility are crucial. Please ask about our UNIVERSA models. Product collations can be collated economically with the Kallfass sleeve wrapper SUPER WRAP 650 de Luxe-in-Line.