Welcome to Kallfass shrink wrap machines and equipment
We have been designing and selling shrink wrapping machines for more than 40 years. Our extensive shrink wrap equipment includes L-sealers, side sealers intermittent and side sealers continuous motion, form/fill/seal machines, sleeve wrappers (bundling machines), shrink tunnels and a large variety of components, such as gripper infeed systems, transport conveyors, feeding systems, stacking stations and film folding devices. Kallfass shrink wrapping machines operate with Polyethylene films (PE-films), PP- or Polyolefine films.
Kallfass shrink wrapping systems provide solutions for manual or fully automatic film wrapping. With our shrink packaging machines you can wrap single items or multi packs, either fully wrapped or sleeve wrapped as bundled shrinkpacks after preceding collation.
Kallfass shrink packaging equipment is at home in a lot of different branches: e.g. print and paper, contract packaging (fullfilment), food and beverage (e.g. bakery products, confectionery, fruit and vegetables), wood and furniture and many others. In the chapter branches of this website you will find a lot of special industry solutions.
---
Kallfass presents previously unseen film packaging technology - the Logi Wrap 500 3D
At Interpack in Dusseldorf, the world's largest packaging exhibition, Kallfass premiered a new packaging concept that allows customers the greatest possible flexibility in the packaging process.
---
How to find us, to the map of the area
---
Award
Servo Packer achieves "INDUSTRIEPREIS 2013"
The publishing house "Huber Verlag für neue Medien" and the German initiative "Initiative Mittelstand", who awards this prize since 2006, awarded the Servo Packer and the concept behind. In the category "Produktionstechnik und Maschinenbau" Kallfass obtained the certificate "BEST OF 2013".
---
Biopolymer PLA wrapping film on the new
SERVO PACKER 500

Time is right for bio-films and technology as well. presents on INTERPACK 2011 in Düsseldorf the new SERVO PACKER 500.
A film wrapping machine innovation which was supported by the German Federal Ministry of Economics and Technology in the scope of a ZIM project due to the innovative importance and future relevance of this Kallfass development project. The SERVO PACKER 500 is asked to help renewable and bio-degradable biopolymer packaging films to succeed.
More Info about biopolymer film wrapping materials.
---
Folienverpackung biopolymere PLA Folie
Quick Access
Click and hit! Make your choice here.
Service-Hotline
Your way to Kallfass
General Business Conditions
Service-Conditions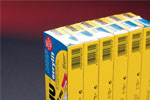 KALLFASS Video-Collection
Discover more than 250 product clips!
The perfect overview over our wide product range!